NEW SUMMER MENU NOW BEING SERVED
Summer is finally here and we've just launched our best ever menu.  Some amazing new additions to our menu. We've also got some amazing new plant based alternatives to your favourite dishes. So you can get our House Burger now made with beef or plant based, plus many more.
Book a table NOW on 02879650011
Summer Menu now available at The Elk Bistro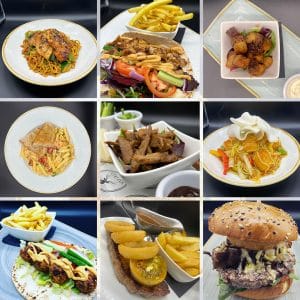 Popular Dish
Crispy Honey Chilli Chicken

served with stir-fried vegetables, garlic pitta, sour cream and choice of side
A whole new menu to savour…..
New Starters, new main courses and new sweets…what's not to love? Come to The Elk Bistro today and try for yourself. Open 5 days a week from July. Thursday to Monday 12pm-9pm (8pm Sunday)
Plant based Menu
We now serve a range of nutritious and delicious meat-free products. You can enjoy all our best selling dishes, now with a plant based version.
Enjoy our House Burger, Chicken Fillet Burger and Chicken Goujons all now with a plant based alternative should you not want to eat the meat versions.  We've also got a Vegan Chilli, Vegetable Curry and a Spinach and Avocado Burger. Forget those boring vegetarian alternatives you get elsewhere.
Hours
Monday
12pm - Late (Bar Only)
Tuesday
Closed
Wednesday
Closed
Thursday
12pm - Late (9pm Food)
Friday
12pm-Late (9pm Food)
Saturday
12pm - Late (9pm Food)
Sunday
12pm - Late (8pm Food)
SPOTIFY
Who doesn't love the music around the early 2000's? Amy Winehouse to Beyonce to Eminem and lots of College dropout Kanye. What a time…