HO HO HO
Tis the season already to start booking those Christmas parties. We're holding a massive Christmas party on Saturday 17th December with Sean Magee. Get a £50 Bar Tab for every 10 people booked. So if there are 30 in your party, you get £150 bar tab to spend. AMAZING!! Contact us today for booking your place.
Email: aileen@theelkcomplex.com on 02879650011
Delicious food served Thursday to Sunday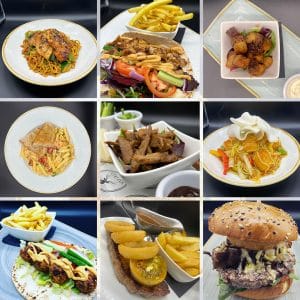 Popular Dish
Crispy Honey Chilli Chicken

served with stir-fried vegetables, garlic pitta, sour cream and choice of side
A whole new menu to savour…..
New Starters, new main courses and new sweets…what's not to love? Come to The Elk Bistro today and try for yourself. Open 4 days a week. Thursday to Saturday 12pm-9pm (8pm Sunday)
Plant based Menu
We now serve a range of nutritious and delicious meat-free products. You can enjoy all our best selling dishes, now with a plant based version.
Enjoy our House Burger, Chicken Fillet Burger and Chicken Goujons all now with a plant based alternative should you not want to eat the meat versions.  We've also got a Vegan Chilli, Vegetable Curry and a Spinach and Avocado Burger. Forget those boring vegetarian alternatives you get elsewhere.
Hours
Monday
12pm - Late (Bar Only)
Tuesday
Closed
Wednesday
Closed
Thursday
12pm - Late (9pm Food)
Friday
12pm-Late (9pm Food)
Saturday
12pm - Late (9pm Food)
Sunday
12pm - Late (8pm Food)
SPOTIFY
Who doesn't love the music around the early 2000's? Amy Winehouse to Beyonce to Eminem and lots of College dropout Kanye. What a time…